Frequently asked Questions and Answers about the Wire Fox Terrier

Call for information 818-504-6887
Our prices are firm. Puppies are regularly evaluated and price is determined by age , conformation and quality. All puppies purchased as pets are sold as as non breeding unless a permission to breed contract is signed . We do not wholesale to pet shops or brokers nor do we sell commercial breeding stock. We do accept VISA Master Card, and Discover Card
We will accept a deposit to hold a puppy to assure that puppy will be available . The deposit is a promise to purchase and is NON REFUNDABLE. Before you put a deposit down make sure you are 100% sure you want a puppy and you can have a puppy. Make sure you have gotten permission from your landlord and that you and your spouse are both wanting a puppy/dog .
I show the puppies by appointment only. Daly from 11 am until 3 pm
For people too far away to drive in to pick up a puppy, check South West Airlines getaway fares to Burbank CA . They have on line rates that in some cases are around the cost of cargo shipping . Southwest dose not require a health certificate (a savings of $115) and you can choose the puppy of your choice rather than a photo . With the exception of those living right on east coast most people can fly in and out on the same day.
Hi Lee, thought you would enjoy these photos. Cosmo is doing great and has adapted to his new home (almost immediately the day we brought him home). He has learned to go potty outside, and has done very well with his training. He is very happy, plays, sleeps, plays, sleeps....... My only thing that I'm having a difficult time with is he gets into a playing frenzy and likes to bite at me. I am using a squirt bottle of water to stop him. It seems to be working. I tell him no, if he doesn't stop I give him a light squirt.
He sleeps with Gene and I on our bed and does very well with that. He sleeps all night long with no issues and I don't have to worry about him falling off the bed. He stays in between Gene and myself, mostly next to me. He is great about waking me up in the morning to go potty. He usually climbs up on me and licks my face or puts his nose on me. I ask him if he wants to "go outside" and he gets excited and happy. He immediately heads to his "spot" in the yard and does his business. Good Boy!
I'll be taking him into our vet this week for his DHPP shot due on 9/8. I'll keep you updated on him.
Thanks again,
Hugs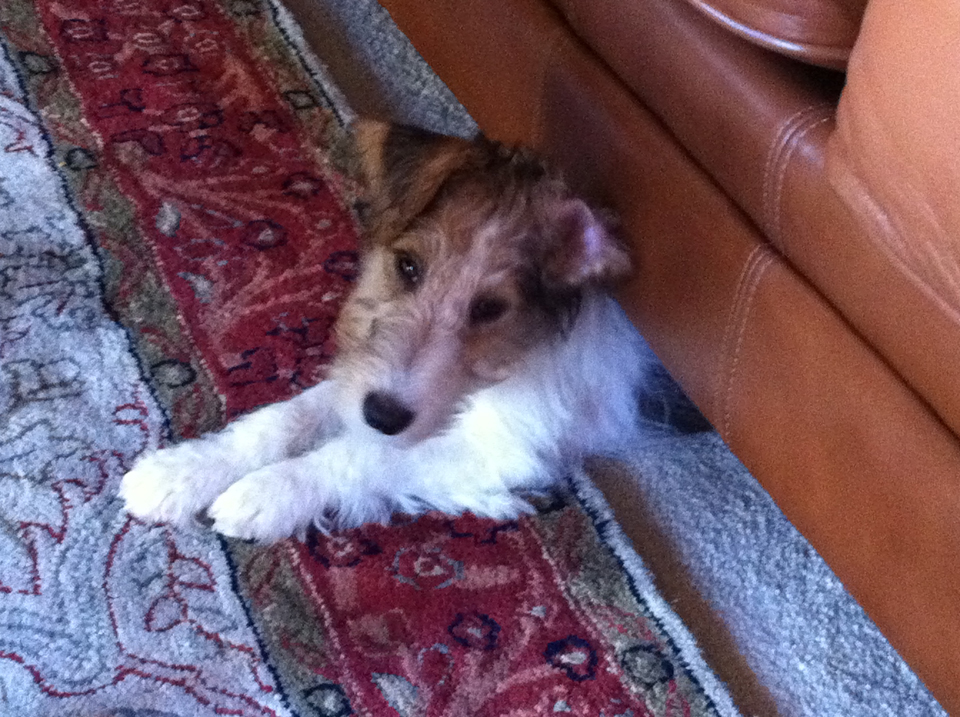 Hi Lee
I remember when I went to your kennels, there was only one female and several males. I picked mine because he had a split face; half white and half brown!
He was so special to us. I've attached a picture of Woodi and Wesley( deceased) to show you their features almost ten years later. As you can see, they were
our companions; I seldom went with the breed hair cut!
Tom Barber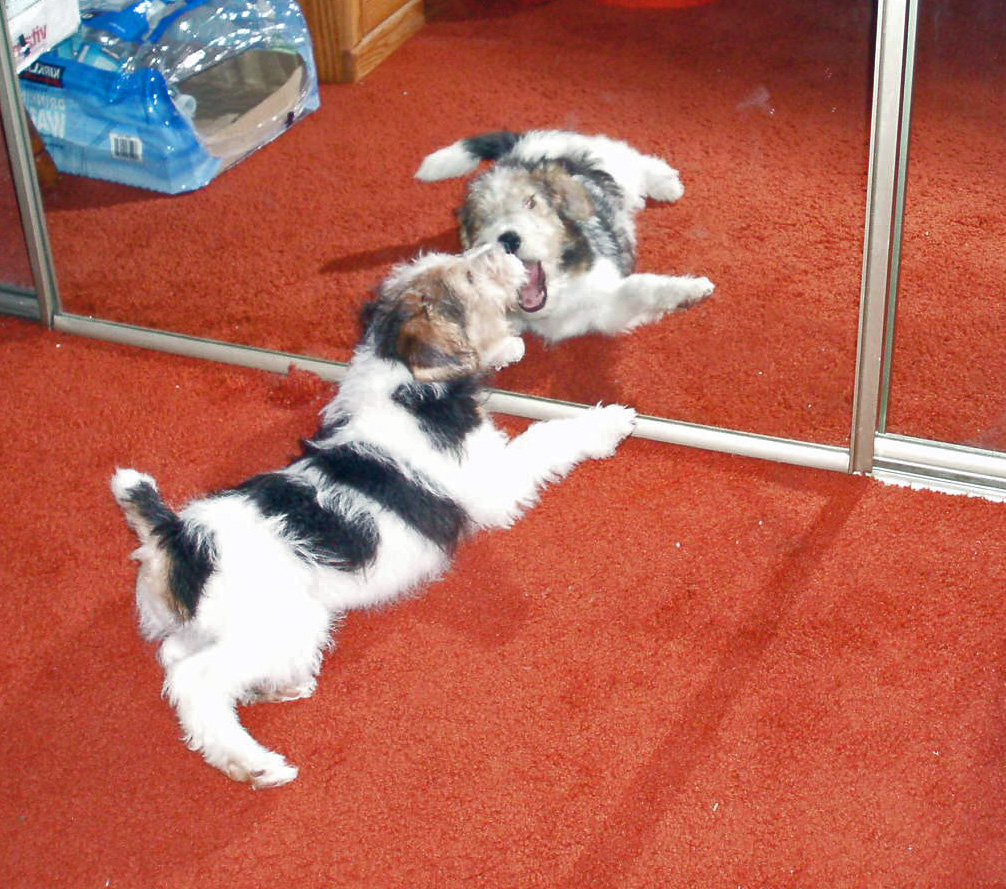 Woody and Wesley Barber and the new baby
Here's Teddy... He graduated from his puppy class. I added another picture of him playing in his new pool. He Loves it!

Debbie DeForge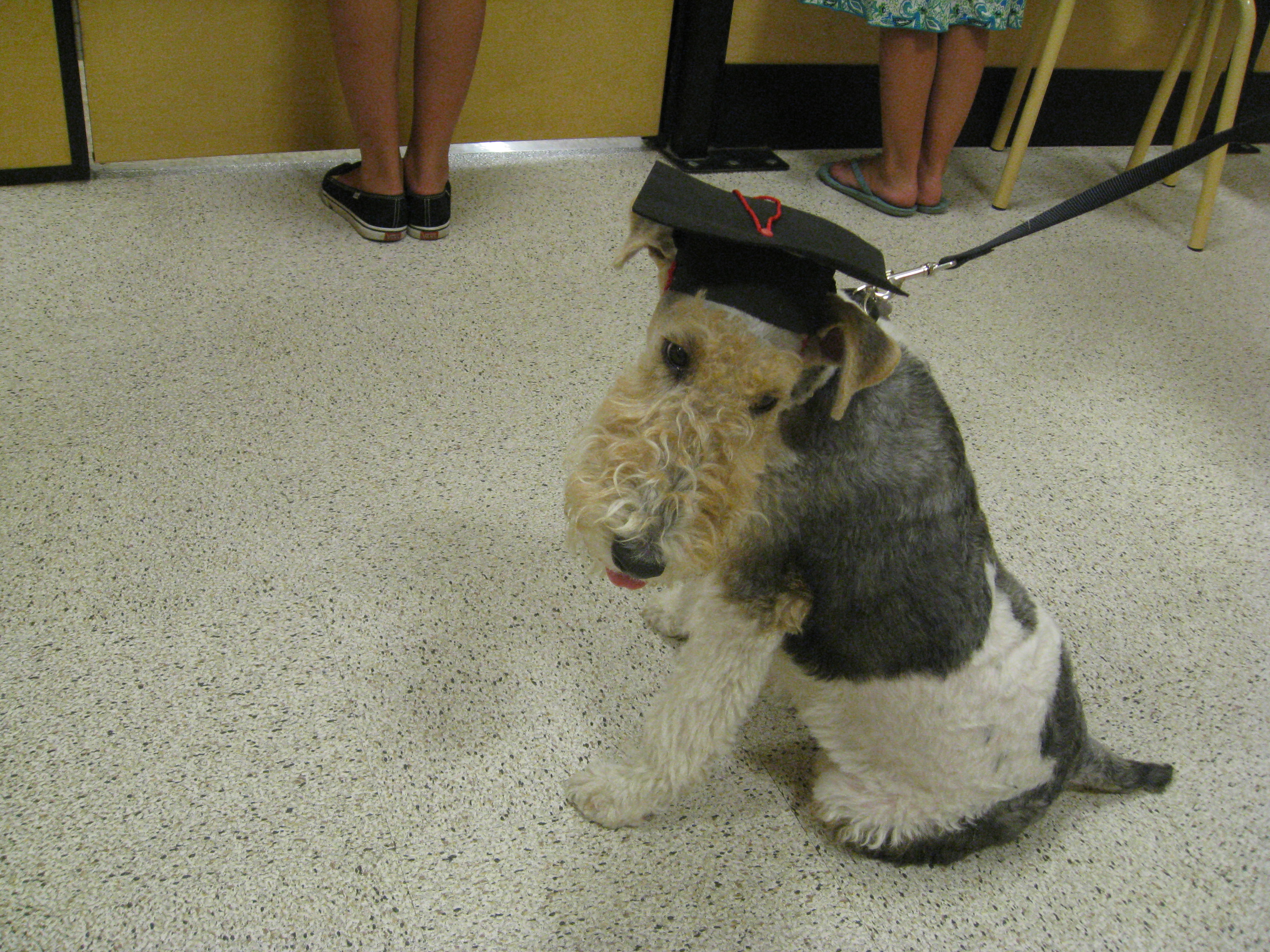 Teddy owned the DeForge family
Hi Lee!
Hope you are well and everyone survived the bah-booms of the 4th.
We are really enjoying coco a lot and she is 2 years and 4 months old
already!
Everyone loves her friendliness and wants to know what kind of dog
she is, so, I think of you often.
I give her a taste of table food after dinner and she licks our plates usually. She'll
finish the milk from Larry's Cheerios in the morning but doesn't eat
any Cheerios. What a character.
Blessings,
Shelley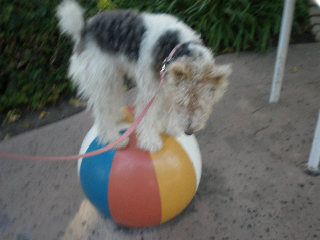 Coco owned by Shelley Randall
We made the trip home without incident. "Jake" has been just wonderful. He took to the leash with no problem, he has not had an "accident" in the house and he is very calm and likes all the neighbors. He is eating just fine and he slept with me last night and slept all night. He follows me everywhere and gives me kisses and loves to be petted and have his head and chest scratched. He took to his toys and his bed and he loves being in and outside. I just already love him and know we will be the best of buds. As I said before to you many times, "there is nothing like a wire". Thanks. Bette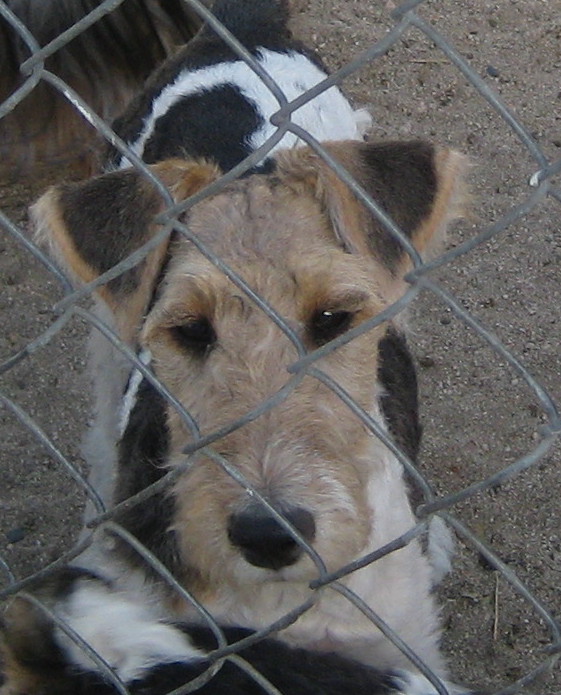 Jake owned by Bette Relf